Buddhadasa's birth centenary would be best celebrated by returning to his teachings on the essence of Buddhism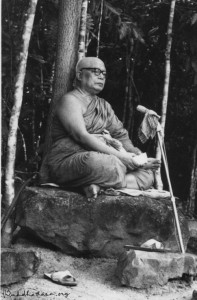 There's one big challenge in the ongoing commemoration of one of Thailand's most revered Buddhist monks, the late Buddhadasa Bhikkhu. It's the question of how we can avoid breaching, naively perhaps, his core teachings in the process. If Buddhadasa is to be taken really seriously, this is an occasion to "not" think about him. This is not an occasion for anyone to think he or she is "his" disciple, nor to recite his knowledge for personal purpose. And this is the occasion to stay away from symbols, rites or rituals. To remember him, this is the time to take to the essence of Buddhism with extremism – without all the mediums that have the potential to delude us. This is the time to let everything go.
Controversial, yes. But it's also simple. Interpreting the Lord Buddha's focal teachings, Buddhadasa came up with the famous and provocative "myself/mine" (tua ku, khong ku) doctrine. How much it contradicts "I think, therefore I am", and which school is right, is open to debate, but this Buddhist fundamental is based on the belief that all human suffering starts with our misconception or ignorance about "self". We become possessed with greed, lust, anger and so on because somehow we are mistaken that "we" are "permanent". This school teaches that, in reality, there is no such a thing as the self, which is part of the corporeal world that is constantly in a state of flux. There is nothing permanent in this universe, and ignorance of the natural interdependence of all things feeds an ongoing cycle of suffering in our lives. If we can overcome the "myself/mine" mindset, we can then break out of the cycle of suffering.
One can argue or dispute the belief, but Buddhadasa's spiritual quest was honourable and unquestionable. In 1932, as a wind of political change was sweeping the Thai capital, something as significant was happening in a remote corner of the South. An unorthodox monk named Phra Indapanno Bhikkhu was embarking on a long, arduous journey to reach and foster the real essence of Buddhism. He decided to stay in a deserted shrine in Surat Thani's Chaiya district. The ramshackle hall housing a crumbling Buddha statue would become the renowned Suan Mokkhabalarama, where one of the greatest Thai disciples of Lord Buddha disseminated priceless knowledge to hundreds of thousands, perhaps millions.
Yesterday marked his birth centenary. But to get to Buddhadasa's essence requires reflecting upon the events and controversy surrounding his death. Before he died on July 8, 1993, some of his followers accused Siriraj Hospital doctors of providing medical treatment to the monk against his will. Buddhadasa had made known his intention not to allow the use of modern technology to prolong his life. His wish to die peacefully and naturally was almost disrupted by an uproar where "myself/mine" ironically took the centre stage.
"You can be an ardent believer of a certain faith and yet be totally ignorant about it," Buddhadasa once said. It was directed at both his proclaimed "disciples" and many mainstream monks who still indulged themselves with materialism and were still very much attached to the "ego". And when a certain powerful political figure, who possesses enormous wealth, declared recently that he was also a follower of his, the statement about total ignorance could not find a better testament.
Buddhadasa's unorthodoxy subjected him to conservatives' scrutiny and ridicule. He was once dubbed "mad", and even "communist". But his following swelled, and he travelled extensively throughout the world to advocate a non-materialistic lifestyle and spread his revolutionary teaching on how to make "today's life" one's best, instead of expecting another chance in heaven or hell. His last, unspoken sermon resounded during the last stages of his final illness: Death is nothing to be afraid of and human beings should face this natural part of life's process with the unprejudiced understanding of "impermanence".
When he was lowered into his coffin at Wat Suan Mok on July 8, 1993, aged 87, he symbolically became what he had long taught people to be – in harmony with nature.