By Aree Chaisatien, The Nation, September 28, 2006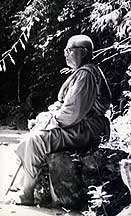 Bangkok, Thailand — More than 70 youths from all over Thailand have started Thursday a 24-day, 750-kilometre walk for religious understanding from Surat Thani province to Bangkok.
They set off from Suan Mokkh monastery, the 13th anniversary of the cremation of revered Buddhist monk Buddhadasa Bhikkhu. Their journey will end at Sathira Dhammasathan Meditation Centre in the capital.
The "Dhamma Khot Dhamma Yatra" Walk passes through nine provinces along the shore of the Gulf of Thailand and aims to advertise dhamma through youth, using the power of the young generation to help solve social problems.
It is also a way of promoting the late monk's three resolutions: to understand one's own religion, to understand other religions and to shun materialism.
Each youngster wears a Tshirt labelled "Dhamma Khot Dhamma Yatra" and carries the "DhammaKote", the monk's series of books on the essence of Buddhism. They share what they have learned with friends.
Sansanee Sthirasuta, the nun who founded Sathira Dhammasathan, says the "DhammaKote" books are like guidebooks. "With every page you open, you'll know more about your heart. And every place we stop, we'll take the book out, pick a topic and share with others."
She said the walk showed that the venerable monk was not dead as he once announced that Buddhadasa (referring to the teaching of the essence of Buddhism) would not die.
Lalada Yiengyong, 12, the youngest in the group and from Bangkok's Krungtep Vited Suksa School, said: "I joined the group wishing to understand myself and others. I wish to correct myself by learning to live with others."
Pirun Salae, 23, a Muslim student from Suan Dusit Rajabhat University, said: "Learning is not necessarily confined only to Islam."
The youngsters' itinerary will take in the late monk's birthplace and home in Surat Thani and Wat Tapangjik, where he lived for nearly a decade.
They will walk through Chumpon, Prachuap Khiri Khan, Phetchaburi, Samut Songkhram, Samut Sakhon and Nonthaburi to Bangkok. The route was planned by Rattapoom Youprom, who famously travelled the country's waterways by kayak for 500 days to find inner peace. This spiritual walk will embrace these goals by welcoming people of other faiths and sharing insights along the way.
The walk is part of the celebrations of the 100th anniversary of the birthday of Buddhadasa Bhikkhu.